PIR+MW Dual Technology Detector - DP550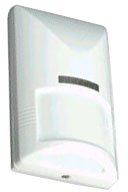 DP-550 is a compact PIR+MW dual technology detector with sleek appearence and superior reliability. This motion detector is a combination of passive infrared sensor and microwave sensor.
The alarm signal is generated only when both sensors detect the intrusion at the same time. Therefore, the detection reliability is greater than single technology detector.
This detector shares the same housing with other 550-series sensors. System designer can easily select various sensors to harmonize the interior decor with uniform appearence.
Features
Advanced DRO microwave sensor
NC/NO selectable alarm output
Excellent look down detection
Motion signal discretion technology
Selectable pulse count PIR detection
Superior RFI and EMI protection
Adjustable microwave detection range
Temperature compensated PIR sensor
Fluorescent light interference filter circuit
Housing screw loosening tamper trigger
| Specifications | |
| --- | --- |
| Power Supply | 9 ~ 16VDC, 12VDC typical |
| Current Drain | 30mA, @12VDC |
| Infrared Sensor | Dual element, high sensitivity, low noise |
| Microwave Sensor | DRO type, patch antenna |
| Detection Angle | 110 degree wide |
| Detection Range | 15m @25° C |
| Mounting Height | 2.0 ~ 2.4m, 2.4 ~ 3.6 m with bracket |
| Alarm Period | 1.5 ~ 2.5sec. |
| Alarm Output | NC/NO, 30 VDC, 0.2A |
| Tamper Protection | NC, housing screw loosening trigger |
| Pulse Count | 2/3 selectable |
| Temperature | -20° C ~ 50° C (4° F ~ 122° F) |
| Dimensions | 112 x 66 x 45mm |
DETECTION PATTERN