DSC Wireless Panel
Pull-in increased revenue, not wires With the DSC self-contained wireless alarm system (PowerSeries 9045), installers are able to deliver a full-featured home security solution that installs in minutes and eliminates the clutter and expense of pulling wire to a host of sensor and detector accessories. Not only does this help installers move to the next installation quicker — helping to increase revenue— but it provides them with the flexibility needed during system placement. The wireless device enrollment process allows items such as smoke detectors, motion detectors and door/window contacts to be easily integrated.
Product Features
Smallest footprint of any self-contained wireless alarm system available
Supports 32 wireless zones and 16 wireless keys (without using a zone slot)
Esthetically pleasing design
Full 32-character programmable labels
Enlarged keypad buttons
5 programmable function keys
Intuitive clock programming
Individual FAP keys
Easy wireless device enrollment process
Template programming
17 user codes
128 event buffer
1 partition
False alarm reduction features
Input/Output terminals* (2) can be programmed to operate as zone inputs or programmable outputs
*(I/O terminals can be configured as zone inputs or PGM outputs; when configured as PGMs, outputs are 50 mA)
Distinctive Esthetic Design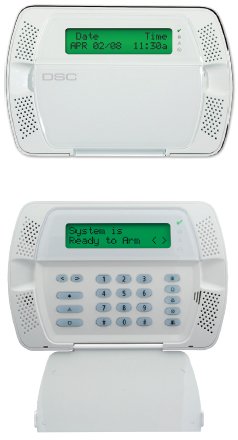 Incorporating esthetics seldom seen in the security industry, the PowerSeries 9045 features bold, contoured lines and enlarged keypad buttons that are easy to interpret and use. Also, despite occupying the smallest footprint of any self-contained wireless alarm system available, the PowerSeries 9045 is equipped with the industry's largest, full-message LCD display.
Wireless Device Enrollment
A simplified wireless device enrollment process greatly reduces overall installation times. Installers no longer need to manually program serial numbers or wireless attributes. Instead, a series of enrollment screens prompt installers to confirm Electronic Serial Numbers (ESN), zone numbers and zone type. If an installer attempts to enroll a device already recognized by the system, the keypad will identify it as a duplicate and display its assigned zone and ESN.
Template Programming
Programming the self-contained wireless alarm system is simplified through template programming. It allows installers to quickly program the functions required for basic operation by entering a 4-digit code. Code prompts exist for pre-defined zone definitions, reporting code formats, communication call directions, and DLS setup. Once the 4-digit code has been programmed, the installer is then prompted to enter the monitoring station telephone number and account code, DLS access code, entry and exit delays, and installer code.
Compatibility
The PowerSeries 9045 is compatible with all DSC 433/433EU and 868 MHz wireless devices.
| Specifications | |
| --- | --- |
| Dimensions | 138 mm x 205 mm x 39 mm (5.4" x 8.07" x 1.53") |
| Current Draw | 350 mA (Maximum) |
| Power Supply | 16.5 VAC/20 VA @ 50/60 Hz |
| Aux+ Output | 12.0-12.5 VDC/100 mA |
| Battery Backup | 7.2 VDC @ 1500 mAH (24 hr Backup) |
| Operating Environment | 32° to 120° F (0° to 49° C) |
| Relative Humidity | 5% to 93% |