PIR Motion Sensors / Energy Saving Sensors / Security Sensors
Brief Introduction
The PIR Sensor Switch can detect the Infrared Rays released by human body. The light or any other electrical appliance can be activated automatically by the active presence of a human body within the detection range / coverage area & when there is no presence the light will be deactivated automatically.
Electricity
It has been estimated that a single unit of energy saved at the end use point is equal to 2.3 units of energy produced.
If energy efficient methods are mplemented properly about 25000mw equivalent capacity of power can be created through promotion of energy efficient measures.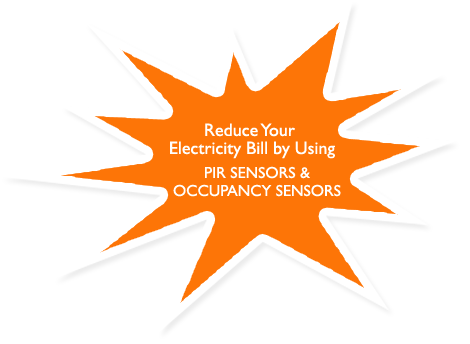 Working Principle
The PIR Sensor senses the motion of a human body by the change in surrounding ambient temperature when a human body passes across.
Then it turns on the lighting load to which it is connected.
The lighting load will remain ON until it senses motion.
Once the motion is seized it switches OFF the lighting load.
During the night, the LUX adjustment knob allows you to adjust the luminosity based on which the lighting load will either switch on / off automatically.
Applications
Common toilets, for lights & exhaust fans
Common staircase / Entrance / Basements
Parking areas / garden lights
Living room, Malls, ATMS
Changing rooms in shops
Offices / Conference Room
Corridors & many more!
Advantages
PIR Motion Sensors will itself recover its cost by reducing your electricity bills and will further save your electricity cost for the future.
Very easy installation and can be installed by in – house technician itself.
No separate wiring is required hence no additional installation cost.
No modification is required and complies with current aesthetics.
Pay back within ten months according to residential meter and six months according to construction meter.
Features
Selectable Detection area patterns
Day/ Night mode also.
Ceiling & Wall mounting
Waterproof & Weatherproof
Selectable Sensitivity
Form C Relay output
Approximate saving for staircases
| Approximate saving for staircases | | |
| --- | --- | --- |
| For Residential Meter | Without PIR Motion Sensor | With PIR Motion Sensor |
| Power capacity of one tube light in watt | 40 | 40 |
| Operational hours of corridor tube lights | 12 | 3 |
| Total consumption in watts per day | 480 | 120 |
| Number of days in a month | 30 | 30 |
| Total power used by one tube light in kw | 14400W = 14.4 KW | 3600W = 3.6 KW |
| Cost of electricity per kw in Rupees | 4.5 | 4.5 |
| Amount paid per month @ Rs. 4.50 per unit | 64.8 | 16.2 |
| Savings per month per 1 tube light in Rupees. | | 48.6 |
For higher wattage Electrical Appliances the saving will be much more accordingly.