Glass Break Sensor / Detector
Features
Piezoelectric Style.
No power supply is required.
Accurately and effectively detect the strike of glass.
The GS-380 series comes with superior design for high performance and effective glass striking detection.
No false alarm signal will be generated from wrong vibration signal.
Unique circuit and structure designs provide greater stability against false alarms cause from any environmental vibration.
Specifications
Model
GS-380C
GS-380S
Detection Range
Radius of 180 cm
Detection Method
Piezoelectric
Alarm Period
0.5 second - 6 second (0.3 second minimum)
Alarm Output
Semiconductor style switch, polarity, DC24V/40mA.
Resistance at 13 ohm (max) when normal
Operating Temperature
-4° F to + 131° F (-20° C to +55° C)
Mounting Position
indoor, surface of glass materials
Weight
0.46 oz (13 grams)
0.92 oz (26 grams)
Dimension (Inches/mm)
1.4" Ø x 0.43" (36.5 Ø x 11mm)
Standard Accessories
Self tape (35 Ø x 1 pc)
Wiring Terminal
Direct Style/stripped bare wire
Curling Style/stripped bare wire
---
Accoustic Glass Break Detector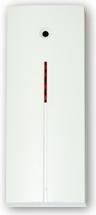 GBS-210 "VIVO" glass break detector
The GBS-210 glass break detector detects the breaking of glass windows. A dual technology detection method (air pressure and sound analysis) is used. Used processing guarantees high sensitivity to the breaking of all types of glass. The sensitivity can be adjusted to compensate for various window sizes and mounting distances. The GBS-210 distinguishes itself with outstanding RF immunity. A built in LED indicator allows for easy testing and it also provides an optional alarm memory feature.
Specifications
Power supply
12 V DC ± 25%
Power consumption (LED off)
max.10 mA
Maximum consumption (LED on)
max. 35 mA
Terminals size
1 mm2
Alarm output
normally closed, max. 60V / 50 mA
internal resistance max.16 Ohm
Tamper output
normally closed, max. 60 V / 50 mA
internal resistance max.16 Ohm
Detection range
max. 9 m
Minimum glass dimensions
0.6 x 0.6 m
Initialization
max. 60 s
Security level
grade 2, EN 50131-1
Environment
II. - general indoor, (EN 50131-1)
Operating temperatures
-10 to +40 °C
The product is CE marked.