Pet-immune Passive Infrared Detector IR-580P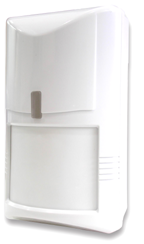 The IR-580P PLATO is a passive infrared detector with pet-immunity detection. Utillizing IR-TEC patented Target Size Verification technology; this state-of-the-art motion detector is able to immune normal movement of domestic pet up to 20 kgs (45 lb).
It shares the same housing with 580 series, system designer can easily select various model to harmonize the interior decor with consistent appearence.
This detector provides every security professional the leading edges with its reliable detection in the intrusion detection of pet friendly areas.
Features
Target Size Verification (TSV) technology
Excellent RFI and EMI immunity
Built-in temperature compensation
Double noise reduction circuit
Sealed optics mechanism design
Disabled blue light walk test LED
Second-to-none wiring space
Selectable intelligent pulse count
NC/NO selectable alarm output
Up to 20 kgs pet immunity detection
| Specifications | |
| --- | --- |
| Infrared sensor | Dual element |
| Power Supply | 9~16 VDC, 12 VDC typical |
| Current drain | NC: 15 mA, NO: 8 mA @12VDC |
| Alarm Output | N.C/N.O 30VDC, 0.2A max. |
| Alarm Period | 2 0.5 sec. |
| Pulse Count | 2 / 3 selectable |
| Detection Range | 100, 12 x 12 m at 25C |
| Tamper Switch | N.C cover open activates |
| Walk Test LED | Blue, can be disabled |
| RFI Immunity | Max. 40V/m (10~1000 MHz) |
| Detectable Speed | 0.3 ~ 1.5m/sec. |
| Mounting Height | 2.2 m typical |
| Humidity | 95% RH maximum |
| Temperature | -20C~60C (-4F~140F) |
| Dimensions | 100 x 60 x 42 mm |
DETECTION PATTERN